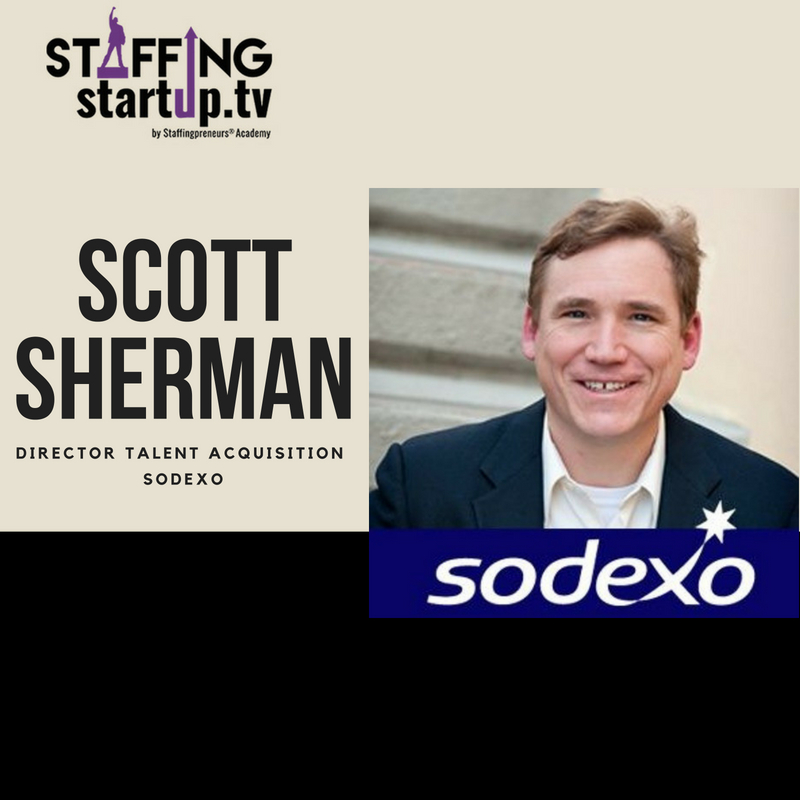 29 Jun

Scott Sherman Director Talent Acquisition Sodexo

Today's episode featured Scott Sherman, Director of Talent Acquisition for Sodexo who shares his insight and thought leadership on the topic of AI in recruitment, sourcing, and staffing as well as some of the challenges that are taking place within the industry today. We discuss the value of the niche' recruitment and staffing partnership, diversity recruitment and Ai, as well as the transformation that's taking place within applicant tracking systems right now, and so much more. This was an excellent interview from start to finish – take a listen now!

There were a lot of resources mentioned throughout this podcast. Please do yourself a favor and check each and every one of these great resources out. Also, please be so kind as to let them know you heard about them from Dee Williams and the StaffingStartup.tv podcast. It will make them smile.:-) Happy Listening!
3:03 Scott Sherman Introduction.
8:04 Working With 3rd Party Agencies.
17:44 Diversity Sourcing, Recruitment & Hiring using Ai for Bias Hiring Searches.
26:00 The Transformation of Applicant Tracking Systems Today; Ai and Chatbots are referenced here.

28:14 SmashFly CRM was referenced here.
iCIMS ATS & Recruitment Software, TextRecruit Candidate and Employee Engagement Platform, Oracle HCM Cloud Enterprise Human Capital Solution, Paradox Ai Recruiting Assistant, and digital disruption was mentioned here.
30:43 Loxo Next generation platform for executive search and staffing agencies, JobAdder Recruitment Software, ATS, HR Software For Recruitment Companies and HR Departments Worldwide, Crelate All-in-one Recruiting CRM + ATS software for professional recruiters, Bullhorn Staffing Software Applicant Tracking System was mentioned here.

31:38 Advice for Staffingpreneurs.